San Francisco is blessed with many best-in-class oral surgeons. It's a center of healthcare not just in the Bay Area but throughout California, and, indeed, the world. But when you need oral surgery in San Francisco, only one person matters: that oral surgeon.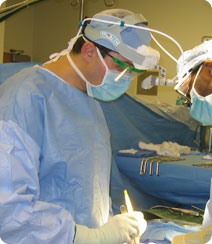 You want the best one for you. That would be our Dr. Alex Rabinovich at Oral Surgery San Francisco.
Dr. Rabinovich grew up in San Francisco and attended George Washington High School, following which he went to UC Berkeley where he studied environmental biology and graduated with honors at the top of his class. He then went to New York City and began his medical training at Columbia University School of Dental and Oral Surgery where he obtained his DDS degree. Following this, he went to the State University of New York, Downstate School of Medicine, where he earned his MD degree. He then underwent residency training in General Surgery and Maxillofacial Surgery at Kings County Hospital.
Dr. Rabinovich then developed an interest in facial cosmetic surgery and was selected to attend Georgetown University / Posnick Center for Facial Plastic Surgery where he worked in tandem with some of the world's foremost plastic surgeons. He also is an expert in facial reconstructive surgery such as cleft lip and palate, and he has given his time and expertise freely on medical missions abroad in order to help children in underdeveloped countries. He returned to his beloved city of San Francisco and set his sites on being a top-rated oral surgeon.
Finding a Doctor Who Cares For You
Whatever your needs for oral surgery in San Francisco, you could not be in better hands than those of Dr. Rabinovich. You may need wisdom teeth extraction in San Francisco, and you will be pleased to learn that Dr. Rabinovich has the very latest state-of-the-art technology in 3D imaging which produces far superior images of your jawbone in both vertical and horizontal planes.
This enables him to make a very accurate assessment of any issues that you have with your wisdom teeth and prepare a treatment plan for your individual condition. After all, when it comes to oral surgery in San Francisco, no two patients are exactly the same.
Dr. Rabinovich is also an expert at bone grafting. There are times when you may need some form of oral surgery but there is insufficient bone in the jaw. This could also be a result of trauma suffered in a car accident or a sports injury.
Dr. Rabinovich is a firm believer that when you need bone grafting or any other form of oral surgery, insurance should not be an issue. He therefore accepts a wide variety of different insurance companies. He also offers many different finance plans for situations where your insurance may not cover all the procedure, so you can have the best oral surgeon in San Francisco without any financial worries.