There are some oral surgeries in the Bay Area where you must have the best oral surgeon, and bone grafting is one of those procedures. A bone graft is needed when there is insufficient bone in the jaw. It is also used when a patient has experienced trauma to the jaw from a car accident, disease, or sports injury. The lack of bone in the jaw can devastate a person's daily life and self-esteem. When you need a bone graft in your mouth, you want to ensure it's best to leave the task to a highly qualified professional.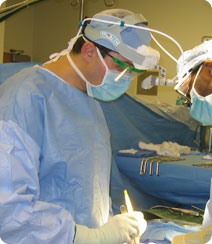 What is a Bone Graft?
Bone grafting is removing strong and healthy bone mass from one part of your body and transplanting it onto your jawbone. Or it can use a special bone grafting material instead. This builds up your jaw, strengthening it to support the incoming implant structures. Bone grafting is necessary for those with additional jawbone issues.
During the procedure, patients go through total sedation. The restorative dentist will take bone from another area of the patient's body, usually the hip or chin, and then graft it onto the existing jaw bone using a careful process. This will heal over time, becoming stronger before the implants are attached. Bone grafting is the first step in the dental implant procedure and requires surgery before patients can proceed with the next steps.
An Oral Surgeon for Bone Grafting Issues
If you are searching for one of the best oral surgeons for bone grafting in San Francisco, consider Dr. Rabinovich. His extensive facial and jaw reconstruction training makes Dr. Rabinovich one of the top choices for bone grafting surgery. Bone grafts restore the mouth to a healthy, natural state. Grafting bone takes time, patience, and attention to detail. Dr. Rabinovich uses the latest 3-D grafting technology to ensure your bone graft surgery is planned down to the smallest detail. He will walk you through the process and work hard to make your oral surgery as comfortable as possible. Getting you back to a normal, healthy life as quickly as possible is always Dr. Rabinovich's goal.
Do I need a Bone Graft?
A bone graft is not necessary for every patient. A few conditions may apply to patients who want bone grafting before dental implants. These are the conditions that a bone transplant is possible:
Years of tooth loss have led to a weakening jaw.
Gum disease can cause bone loss.
Injury to the face or mouth
After teeth are lost or taken out, the mouth has a large gap.
Many unsuccessful procedures in the dental field over the years
A bone graft, separate from dental implants, may be required before an implant can be successfully installed. To determine if you require a bone transplant before dental implants, schedule a consultation with a specialist in dental implants.
Dental Insurance Coverage for Bone Grafting
Insurance should not be a barrier when searching for the best to handle your bone grafting surgery. Dr. Rabinovich offers top care in bone grafting treatment and surgery. His staff provides top customer service for evaluating insurance plans. All types of dental insurance are accepted, including Delta Dental, Western Dental, Guardian, Ameritas, Humana, Renaissance Dental, Careington, Aetna, METLIFE, CIGNA Dental, and others. Check with us to see if we accept your in-network dental insurance provider when you call for an appointment. Once dental coverage is confirmed, our supportive staff will help manage the dental insurance paperwork and financing. If you need support with dental financing, our friendly and knowledgeable staff will walk you through every option to find the best payment plan to fit your budget.
If you have any questions, please do not hesitate to call Oral Surgery San Francisco today at (415)817-9991, or email us at info@doctorrabinovich.com.