Dr. Rabinovich has devoted his professional career to all aspects of Oral and Maxillofacial Surgery with special interests in surgical placement of dental implants, bone grafting, facial trauma, wisdom teeth removal and jaw surgery. Considered one of the top cosmetic surgeons in San Francisco (often referred to by lay people as "plastic surgeons"), he also offers cosmetic procedures including Radiesse, Juvederm, Botox® treatments, eyelid surgery, face lifts, and laser skin resurfacing at the Visage MedSpa & Facial Plastic Surgery Center in San Francisco.
Here in the San Francisco Bay Area, engineers understand the importance of acquiring skills in both front-end and back-end technology. For a cosmetic surgeon, the same idea can apply. A well-rounded, talented cosmetic surgeon knows the aesthetic and structural work it takes to get the best results for you. A top-rated surgeon who is skilled in various aspects of plastic surgery can be found in Dr. Alex Rabinovich. He has extensive training involving surgical work with soft tissue (skin and muscle) and hard tissue (bone and cartilage). Dr. Rabinovich's top skills as a cosmetic surgeon partnered with the latest in plastic surgery technology equal an excellent outcome.
Dr. Rabinovich offers cosmetic surgery procedures such as; Radiesse, Juvederm, Botox treatments, eyelid surgery, face lifts and laser skin resurfacing. Dr. Rabinovich's plastic surgery skills are enhanced with an extensive background in oral surgery and maxillofacial surgery. When Bay Area locals want the best results from a plastic surgeon, Dr. Alex Rabinovich is uniquely qualified to understand both appearance and function.
An Oral Surgeon and a Cosmetic Surgeon – Specializing in the Face and Jaw
Because of his surgical and dental background, oral and maxillofacial surgeon Dr. Alex Rabinovich is uniquely qualified as a cosmetic surgeon to perform procedures that involve the functional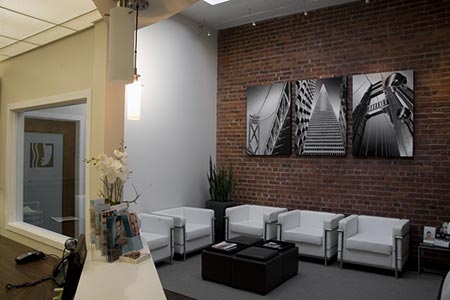 and aesthetic aspects of the face, mouth, teeth and jaws. Dr. Rabinovich has extensive education and training in surgical procedures involving soft tissue (skin and muscle) and hard tissue (bone and cartilage). His years of experience make him finely attuned to the need for harmony and balance between facial appearance and function. In lay person language, he is both an oral surgeon and a cosmetic surgeon: a surgeon who can combine the techniques necessary for effective oral surgery with the aesthetics of cosmetic surgery to create incredible results.
Please browse and explore the cosmetic facial plastic surgery procedures we offer at the Visage MedSpa & Facial Plastic Surgery Center. Our cosmetic procedures are performed in our state-of-the-art outpatient surgical facility under local anesthesia or light sedation. However, full general anesthesia is also available when necessary. Our patients' safety, comfort, and privacy are our primary concern.
Reach Out for One of San Francisco's Top Cosmetic Surgeons
When you are considering cosmetic surgery, Dr. Rabinovich and his team strive to make your experience positive and enjoyable. The first step towards looking and feeling your best is to schedule your initial consultation. Please contact our office by phone at (415) 817-9991, email us at info@visage-sf.com.
Dental Insurance / Insurance Coverage
Sometimes, a plastic surgeon will also perform dental work. Dr. Rabinovich not only offers top care in cosmetic surgery, his staff offers top customer service for evaluating insurance plans. All types of dental insurance is accepted such as: Delta Dental, Western Dental, Guardian, Careington, Ameritas, Humana, Renaissance Dental, Aetna, METLIFE, CIGNA Dental and several more. Check with us to see if we accept your in-network dental insurance provider when you call for an appointment. Once dental coverage is confirmed, our supportive staff will help manage the dental insurance paperwork and financing. Note that many insurance plans do not pay for so-called 'cosmetic' procedures, but our staff can check your insurance carrier to inquire. If you need support with financing, our friendly and knowledgeable staff will walk you through every option to find the best payment plan to fit your budget.
If you have any questions, please do not hesitate to call Oral Surgery San Francisco today at (415)817-9991, or email us at info@doctorrabinovich.com.