The "near me" search is very popular these days on Google. We even see it in our archives in Google analytics. People in San Francisco often search for "oral surgeon near me". With a convenient location in the Fnancial District, our oral surgery practice is not far from public transport as well as convenient to most of the neighborhoods here in San Francisco.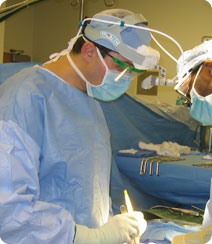 We have two of the finest oral surgeons not just in San Francisco, but in the whole of the state. Dr Alex Rabinovich and Dr Noah Sandler have many years of experience in all forms of oral surgery from the relatively straighforward removal of wisdom teeth through to far more complicated procedures such as facial trauma and facial surgery.
Our doctors' mission is not to be just the best "oral surgeon near me" but rather the best oral surgeon for you. Every patient is different. Every patient is an individual. And every patient needs treatment designed specifically for him or her. That is one of the reasons that our doctors receive so many recommendations from other patients. They listen to your problems and issues and will sit down with you and design the perfect treatment for your individual situation.
They understand that every form of treatment is scary to the patient, to a greater or lesser extent. Even something such as wisdom teeth removal is scary, so they both work hard to explain everything that you need in great detail so that you can be confident that they are experts at what they do and will work out a plan that is as pain free for you as it can possibly be.
State-Of-The-Art Equipment for Oral Surgery
We use state-of-the-art imaging equipment including NewTom which is 3D imaging and is the only instrument that provides the doctors with both horizontal and vertical views, and it also produces substantially less radiation than a traditional CAT scan. Not only does this produce far greater quality and accuracy, but it also means that there are fewer patient visits to the office required.
Not only do we provide you with the finest surgical care at Oral Surgery San Francisco, but we also have financial plans to suit every patient's situation. We accept insurance from almost 40 different insurance companies, and if your insurance does not cover all of your procedures, we also have a wide choice of different finance plans that can include one with no interest if paid off within 6 months. As a specialist team, we take every care to provide you with everything that you need.
So if you are looking for an "oral surgeon near me" make an appointment to see Dr. Rabinovich or Dr. Sandler.